Morro Bay Teen Center Gets Solar
Thanks to Equipment Donations and Discounts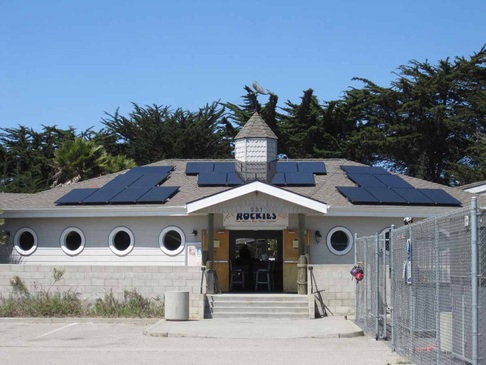 This solar installation on the City of Morro Bay's Teen Center (Rockies) was made possible through a partnership between EBSS, the City and a few select solar equipment manufacturers.
The project was originally proposed to be a donation by EBSS of a small scale solar pv system that would be used as an educational tool for the students and members of the public that use or visit the building.
After considering the details of the donation, the City expressed interest in contributing to the project to expand it to a system size capable of producing the building's annual electric usage. EBSS then secured a combination of donations and substantial price discounts by soliciting interest from a few solar equipment manufacturers. These contributions lowered the City's costs to a point where they were determined to be incremental in comparison to the benefit to the City and building users.
Many thanks to
SolarWorld
,
ProSolar, Quick Mount PV
and
Miner's Ace Hardware
for their generous contributions that made this project happen!
The system was placed in service at the end of September, 2013. To see how this system is performing, please see below
Rockies is located at 231 Atascadero Road, Morro Bay, CA.
---